MEET, TEAMS, GOTOMETING, ZOOM, JITSI?
Our vocabulary has certainly changed in the last few weeks as our work from home (WFH) plans continue to evolve.
Below is a compiled list of tips to enhance your experience, security, and privacy when using video conferencing tools. This applies across the board including when you chat with your family and friends while social distancing.
What Systems Are Out There?
Here are some examples of systems that you might want to consider using. While not inclusive, this table provides a starting point. All of these systems have been used by NGT or clients of NGT.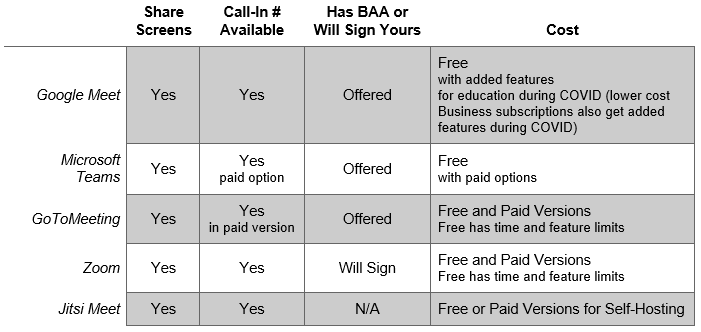 Security
There have been a lot of items in the news recently about security when it comes to video conferencing platforms. Picking a platform and making sure you have a secure platform that meets your needs is important.
Security Vulnerabilities/Risks: Understand security vulnerabilities/risks in your platform and tricks to help mitigate or reduce the risks. Organizations are strongly encouraged to work with their IT departments to ensure configurations are set to help limit the risk. Below are some good resources about recent security concerns noted in the public space.
Zoom Bombing: This is the idea of people jumping in on our video conference call UNINVITED and doing 'bad things', including pornography. 

Here is an example of something in the region:  https://www.msn.com/en-us/news/us/des-moines-council-civil-rights-commission-meeting-called-off-after-being-zoom-bombed-with-slurs/ar-BB146f6H

PCMag's article below talks about how to prevent ZOOM bombing.
Passwords: Weak and reused passwords allow the bad guys to get into your account and take control of your data. What can you do?

Ensure your passwords are strong (multiple characters, etc.)
Ensure your passwords are long
Ensure you are not reusing passwords between systems

Updates/Patches: The bad guys use "bugs" in software to gain access into systems. Having the newest version of software is important. What can you do?

Make sure you're working with your IT department to verify you're using the latest version of software and have applied the latest patches.
Privacy
Keeping private what is said and shown in a meeting is an important consideration, especially if your organizational content/data is regulated. What can you do?
Enable the "waiting room" feature to screen visitors before admitting them into the video meeting.
Require a meeting password for extra security and share it separately with participants.
Regulate meeting participants and their ability to screen-share. Set to – "Only host."
Do not share your public meeting ID link on social media where anyone can see and join.
Do not share screenshots of your video online that could include private information or meeting IDs.
For those including live video as part of their meetings, please be aware of where your camera is pointing.

For example: Can someone see a document pinned to the wall behind you that isn't for them to see? Are others in the room that shouldn't be on camera?

If required by regulation, ensure you have proper paperwork, including a Business Associate Agreement (BAA) for health care information, etc.
Functionality
The goal is to make the most out of your meeting, including seeing, hearing and being interactive as much as possible! How can we accomplish that?
Setup ground rules for your meeting, such as:

Be on time.
Mute your line/connection when you're not speaking.
Be aware of your background.
Dress for the meeting.
Use video when you can.
Make sure you are well lit. The Verge's article below has good suggestions on how to accomplish this.
Find a quiet place, if possible.
Use headphones, if possible.
TEST your systems before the meeting.
Legal
The management team at NGT is not a group of lawyers, but here are some legal items worth your consideration.
Specifically noted items include:
Recording

Know state requirements where you live concerning who needs to be notified when they are being recorded and what are you doing with that recording.
If you are using non-corporate computers or devices for the video conference and recording, is regulated information in the video that is now stored on a computer that is perhaps not secured, or someone else in your family is able to see?

Video Conference with Minors

Make sure your organization (school / church / provider) has endorsed the use of video for all employees.
If possible, make sure parents are aware.
If leading a group of minors, make sure you are the first one in and the last one to leave.
If you have any questions or anything that you need help with, please feel free to reach out to NGT by going to http://www.ngthelp.com to call, email or chat with our help desk staff!