One question that often gets asked about Cyber Security – Where the heck do I start?
One of the first steps of Cyber Security is Inventory.
WHY INVENTORY?
You can't protect what you don't know about. Having an accurate, up-to-date asset inventory will ensure your company can keep track of the type and age of hardware in use. By keeping track of this information, you are more easily able to identify technology gaps and replacement cycles.
START WITH A SPREADSHEET
To start, you could use a simple spreadsheet to document all your assets. The inventory should include: workstations, laptops, tablets, servers, firewalls, switches, printers and any other network connected devices. This sheet should be updated when hardware is added, upgraded, or retired. Be sure to include install date,  specs, and Operating System versions when possible.
INCLUDE YOUR SOFTWARE
You should also make a list of all the software your business uses. Be sure to include all software including: freeware, proprietary, licensed; and both on-premise and cloud software. This sheet should be updated when software is added, upgraded, retired, or licensing is renewed.
Once you have your inventories, you will have a better handle on all the assets your business uses. You can then begin to focus on the risk each of your hardware and software assets poses to your company.
GET A FREE INVENTORY TEMPLATE
To get a FREE Inventory spreadsheet template, check out our free resource- the NGT Information Starter Pack here: Information Security Starter Pack
GET MORE INFO AT THE CYBER SECURITY SUMMIT
You can also get information about this and more cyber security topics at NGT's 1st ever Cyber Security Summit coming up on September 12, 2023. Click below to learn more and register!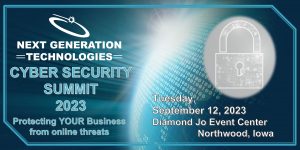 ngtnet.net/cyber-security-summit/
As always, NGT is here to help!
Contact ngthelp.com with questions.