BACKUPS SAVE (BUSINESS) LIVES
One of the best ways you can protect your business from productivity and data loss is to maintain backups of your critical data. When a disastrous event takes down your business, whether due to natural disaster like fire or flooding, or a cyber attack by bad actors, the first thing most businesses rely on is their backups. No one wants to go through that situation, but everyone want to be sure their backups can be counted on in an emergency.
HOW DO YOU KNOW IF YOUR BACKUPS ARE SAFE AND DEPENDABLE?
A good rule to ensure your backups can be relied on is called the 3-2-1-1-0 Rule.
The rule goes like this:
3 – Maintain at least three copies of your data, 1 for production and 2 backups.
2 – Store your backups on two different types of media (for example: disk, cloud storage, SSDs, etc.)
1 – Keep at least one copy of your data offsite in case the main facility is compromised.
1 – Keep one backup copy offline (not connected to the network) or in immutable storage (can't be deleted.)
0 – Verify test backup restores have zero errors or issues.
By following the above rules, you can be sure that your backups are stored properly and able to recover in a timely fashion.
WHAT DO I BACKUP?
Make sure you identify any critical resources that would affect business if it was unavailable. You may have backups of your server, but what about the Accounts Receivable/Payable computer that is vital to operations- is that backed up?
Some items to focus on are financial data, administration documents, company personnel records, databases, software, and customer information.
TEST OFTEN
Backups often contain a lot of data and it can take time to restore that data. Schedule regular backup restore tests to ensure you can restore backups in a timely manner.
GET MORE INFO AT THE CYBER SECURITY SUMMIT!
Make sure to register for the Cyber Security Summit on September 12, 2023 at Diamond Jo Casino Event Center for more info on this and other topics!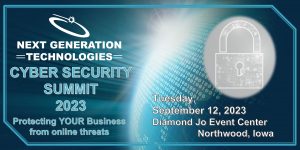 ngtnet.net/cyber-security-summit/
As always, NGT is here to help!
Contact ngthelp.com with questions.