How can you know if your business is prepared in the event of a disaster? Can you keep working if your servers go down? What if there's a fire and you have to relocate?
A key step in Cyber Security is ensuring you can maintain operations even in the face of a catastrophic event. The Business Impact Analysis helps you do that.
WHAT IS A BUSINESS IMPACT ANALYSIS?
A Business Impact Analysis (or BIA for short) is a tool your business can use to identify your critical assets and processes, determine the impact of that resource being unavailable, and create plans to recover from that loss quickly and fully.
HOW TO GET STARTED
To begin, write down a list of all your critical services: hardware, software, cloud services, and processes. For each item, identify the financial and operational impacts that would result from the loss of that resource. Think about:
Lost or delayed sales and income
Increased expenses (e.g., overtime labor, outsourcing, etc.)
Regulatory fines
Loss of reputation
WHAT CAN YOU STAND TO LOSE?
Once you've identified your assets and the potential impact of the loss of those assets, think about what you are comfortable with losing.
How long can you maintain operations without this resource? Is it hours or days?
If the system houses data, how much data are you prepared to lose?
Are you backing up critical systems every night?
What kinds of workaround do you have if the resource is unavailable?
Once you have asked those questions, you will begin to see if your business is truly prepared for a disaster. You may identify areas for improvement, such as additional backups, having spare hardware onsite, or creating workarounds for critical processes.
GET A FREE BIA TEMPLATE
To get a FREE Business Impact Analysis template, check out our free resource- the NGT Information Starter Pack here: Information Security Starter Pack
GET MORE INFO AT THE CYBER SECURITY SUMMIT
You can also get information about this and more cyber security topics at NGT's 1st ever Cyber Security Summit coming up on September 12, 2023. Click below to learn more and register!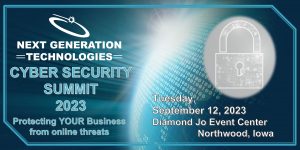 ngtnet.net/cyber-security-summit/
As always, NGT is here to help!
Contact ngthelp.com with questions.